25 Best Pop Of 2018
Posted on December 21, 2018 by Chelsea Baxter
83 out of 100 based on 710 user ratings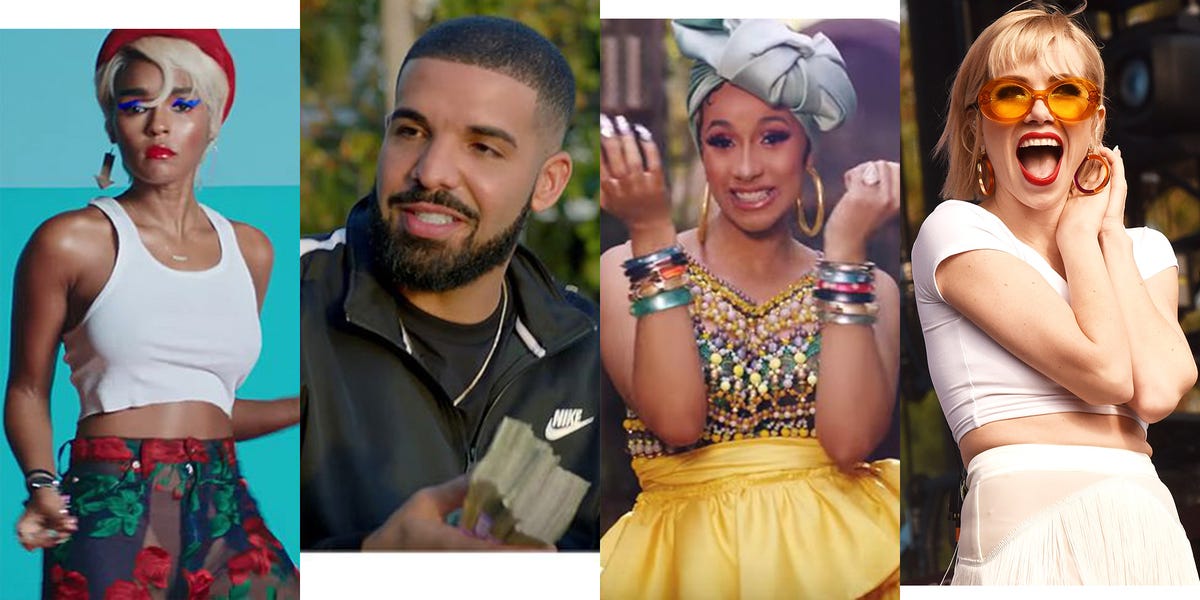 What even is pop music anymore? Considering rap has overtaken every other genre as the dominate popular music in the country, you could technically argue that it is pop music. And often enough it is! Drake? Pop music. Cardi B? Pop music! And you can pretty much attribute popular music to anything on a major label that's dominating the charts.
Me? I consider pop music anything that'll put me in a good mood. When I want to escape the existential dread of our current reality, I go for some Charli XCX, some Robyn—anything that will trigger the pleasure centers of my brain rather than crippling anxiety. Especially in 2018, it takes some pretty incredible musical talent to make anyone happy. So, practice some escapism with the best pop songs of 2018. You can listen to our Best Pop Songs of 2018 playlist on Spotify, too.
Ariana Grande – "Thank u, next"
If there's a song that defines a summer of tabloids, it's Ariana Grande's "thank u, next." The pop star has had a rough few years, which culminated in the doomed whirlwind romance with Pete Davidson and the tragic death of her ex-boyfriend Mac Miller. After the gossip sites went nuts with her sudden engagement to Davidson after a few weeks of dating in June, the relationship became the biggest entertainment news story of the summer. But, as abruptly as it started, the engagement was called off in mid-October about a month after Miller's death. While Grande kept to herself after the break-up, Davidson used it as comedy material at appearances and on Saturday Night Live. In response, Grande released this empowering break-up anthem, which is at once a mature response to the tabloid drama and an affirmation of her own strength.
Christine and the Queens – "Doesn't Matter"
In a year in which pop music—from Robyn to Ariana Grande—was making a powerful statement, singer Héloïse Letissier, who performs as Christine and the Queens, arrived from France to continue the conversation about gender and identity on Chris. On "Doesn't Matter"—over bold poppy '80s drums and sparkling synth—Héloïse bravely addresses the pressures of the masculine gaze, suicidal thoughts, and the nature of relationships and faith. It's a heavy and important conversation to be having—especially in a song filled with as much buoyant French fun as this one.
Carly Rae Jepsen – "Party for One"
We've all been there. It's Friday night and you're alone. That asshole you have a crush on isn't texting you back. But this doesn't have to be a bummer of a night. According to Carly Rae Jepsen's video for "Party For One," you can dance around in your Calvin Klein underwear and order Postmates. (Doesn't sound like a bad night tbh.) This is largely thanks to Jepsen's uncanny ability to turn any shitty situation into an absolute delight. If we're talking about pop music—specifically pop music that can help us escape the looming hell that is our real world—then any CRJ is the perfect antidote of the times. It's a sound that can cure a lonely night. It can heal a broken heart. It can help you forget whatever fresh hell Donald Trump has delivered to us today. CRJ is all we need.
Anderson .Paak feat. Kendrick Lamar – "Tints"
Two years ago, Anderson .Paak's breakthrough album turned him into one of the most impressive rising stars in hip-hop. His sound, along with his dynamic, effervescent live show, made him among the most exciting emerging musicians. Now, as many young stars in his position realize, he must find a balance of the art and the fame. Thankfully, Kendrick Lamar is the perfect mentor (and collaborator) for .Paak. Together, their vocal styles mesh effortlessly, along with their dedication to the craft, which is never placed above celebrity status. "Tints" is a stunning celebration of this balance, a song that could work as a major radio single but also a statement from a young artist who refuses to fall into that cliche slump after success. It also marks .Paak's incredible talent for perfectly bending genres to fit his will—in this case funk, pop, and hip-hop—into a sound entirely his own.
Leikeli47 – "CIAA"
This year, on Acrylic, Leikeli47 defined herself as one of the most authentic, vivid young rappers in music. But what makes her equally as impressive is her singing ability, which has some stunning moments on her new album. One such moment is "CIAA," which opens with Leikeli47 singing in a beautiful, breathy voice: "The guns go bang bang / My neighborhood gangbangs / These kids with no name / Seen their families slain, yeah / Guns and cocaine / These lions with gold chains / Hunt they prey." It's a stunning intro to a story in which the artist melodically raps her own verses along with her R&B chorus. It's masterful storytelling, the kind of which proves Leikeli47's limitless ability.
Robyn – "Missing U"
Robyn has been gone for eight long years, but her music has never been too far away. Not only can her musical influence be heard throughout hits from pop stars like Charli XCX, but her tracks have remained mainstays at clubs, with the likes of "Dancing on My Own" still absolutely holding up. On "Missing U," she picks up exactly where she left off, capturing a spirit that was of its time, ahead of its time, and anchored in glittering '80s disco all at once. In the song, she sings of an "empty space you left behind," which could be said of an unnamed lover or of the singer herself. Welcome back, Robyn.
Lady Gaga, Bradley Cooper – "Shallow"
I'll be the first to admit that the construction of "Shallow" is kind of a mess. They basically took three great hooks from the trailer for A Star Is Born and then copy and pasted those into three and a half minutes. That said, those hooks are goddamn brilliant. I'm fully confident in saying that Lady Gaga's "AHHHHHHH AHHH AHHHH HAAAAA" is one of the best pop hooks of the year. When that first A Star Is Born trailer dropped in June, the Internet became enamored with just that moment of the song. There were memes. There were takes. Gaga's "AHHHHHs" became a moment. And that's something no other hook this year has done.
Young Thug, Elton John – "High"
Way back in 2016, Young Thug shared a photo of himself with Sir Elton John. For years, Elton John has been an avid fan of Young Thug, having heard the rapper on Beats 1 in 2015. Shortly after that, the two started working on a collaboration, and a song featuring Thug and Elton John's vocals from "Rocketman" has been rumored ever since. This year, the two finally made good on that promise, releasing the melodic and thoughtful "High" featuring John's iconic hook. It's a flawless melding of two generations of pop stars, one that on paper could have been a disaster, but is genius given the talent of both musicians involved.
Lana Del Rey – "Venice Bitch"
Lana Del Rey seems to exist in her own place and time of pop music. She doesn't lean into trends that dominate the charts, instead she continues to explore a melancholy dreamscape of glamorous L.A. life. And her new single "Venice Bitch" is the perfect example of a Lana Del Rey song. She finds her grove inside a moaning and wistful ballad about growing up and giving no fucks, and she stays in it for a surprising 10 minutes. Like her music as a whole, this concept never wears itself out, instead becoming more fascinating as she becomes herself more comfortable in its space.
Robyn – "Honey"
I'll be honest, there's going to be a lot of Robyn on this list. First teased on an episode of Girls a year and a half ago, "Honey" was the first hint for fans anxiously awaiting a new Robyn album. In late September, the song finally arrived as her second single from her first album in eight years. And the final version was a little bit different than the one first teased so long ago. This one is a pulsing and boiling club ballad. At five minutes long, it's a patient song that rides a four-to-the-floor beat getting close to erupting but never going full force. And it doesn't need to either.
The Internet – "It Gets Better (With Time)"
It feels like we live in an era when it's tough to face the world. In this track from The Internet's excellent Hive Mind, we don't know who—or what—Syd is addressing. It could be a broken heart; it could be one of the many atrocities on the news. But her support remains the same no matter what we're experiencing. In the song's second act, Big Rube—whose spoken word poetry can be heard on Outkast classics—delivers another inspirational message: "The easy path rarely leads to what our heart truly desires / In this life we must face many a worthy challenge for the outcome to satisfy us." That's something we can all be reminded of, no matter the context. By the final act of these three movements, Patrick Paige II seems to be on the other side of this conflict, ending the song with a newfound feeling of empowerment: "I move mountains and move boulders / I cross borders, don't take orders."
Travis Scott – "Stargazing"
Since the death of Lil Peep late last year, hip-hop has become an open place for artists to discuss their fears and struggles with substance abuse. Travis Scott's "Stargazing" comes as a declaration of love and sobriety. In this woozy trap ballad he sings, "I was always high up on the lean / Then this girl came here to save my life." It's a reference Kylie Jenner, with whom he recently had a kid, and who inspired him to quit codeine. The second act of the song tracks his rise to stardom to its peak, which in his mind is a relationship with Jenner, who's both his saving grace and one of the biggest celebrities in the world.
Nicki Minaj – "Coco Chanel"
Look, when it comes to the Nicki Minaj / Cardi B beef, we here at Esquire.com are on Team Cardi. But that's not to say Nicki's new album didn't have its highlights. On "Coco Chanel," she comes back with fire, making spitting the lines that we remember back from her early days. It's reminiscent of the time when she was one of the most versatile vocalists in hip-hop. Backed by Foxy Brown, it feels like Nicki has the energy and artistry of a rapper who never attempted to be a pop star.
The 1975 – "Love It If We Made It"
On "Love it if We Made it," The 1975 somehow capture the feeling of constant dread that's hitting us from all angles in 2018. In just the first verse, they touch on the opioid crisis, systemic racism and fake news. From there they hit Kanye, Trump, and the death of Lil Peep. The song stacks the unstoppable onslaught of bad news around a surprising message of sly hope, "I'd love it if we made it." This is a chorus that manages to channel the internet's sardonic optimism. These days, a kind of winking hope is the best kind we have.
Empress Of – "When I'm With Him"
Four years after her deep and pensive debut, Empress Of returns having honed her song craft between the albums. "When I'm With Him" is a smart and concise pop gem that has an honest, emotional heart. It's an excellent example of how to write a pop song in 2018. With a hint of nostalgia, and a calm clarity, the song marks an artist who has matured a lot over the years, developing a style that isn't trying to be anything it's not. The sound feels at once familiar and timeless, and also has Lorely Rodriguez singing in Spanish. "I use Spanish [when] something is so personal that I can't really sing about it in English," she told Fader. "It's almost like an alter ego to sing in Spanish." And that emotional honesty absolutely brings "When I'm With Him" to a new level.
Beyoncé / Jay-Z – "Apeshit"
The Carters are pop music. On "Apeshit," Beyoncé and Jay-Z analyze cultural institutions that fail to include black artists. The video places black dancers and the Carters in front of white artwork in the Louvre in Paris. They call out the Grammys, which invite black artists for ratings at the ceremony but don't reward these musicians with actual trophies. As a combined force, the Carters are an establishment of their own, one that's capable of challenging the likes of the NFL and the Recording Academy
Drake – "God's Plan"
Whether he means to or not, with every new release Drake is able to out-Drake himself. With "God's Plan," he played up his nice guy schtick with a truly touching philanthropic music video. And since this is Drake, fans took it and packaged the idea into the pervasive God's Plan Starts Playing meme. And plus, this might be the most Drake line of all time: "I only love my bed and my momma, I'm sorry." It's impossible not to love Drake, I'm sorry.
Sophie – "Immaterial"
With a bouncing, buoyant beat, Sophie champions the freedom of gender identification with a scrambled reference to Madonna. "I could be anything I want / Immaterial boys, immaterial girls / Anyhow, anywhere, any place, anyone that I want / Im-ma-ma-material, immaterial," she sings on the song. It's the perfect example of a modern pop song in 2018—thematically and musically.
Cardi B, Bad Bunny, J. Balvin – "I Like It"
Latin music thrived in the summer of 2017, with Luis Fonsi, Daddy Yankee, and Justin Bieber's "Despacito" being the undisputed king of the season. This year, Cardi B has tapped Latin trap artists J Balvin and Bad Bunny for "I Like It," which brings combines nods of salsa and '60s boogaloo with modern trap. And the track arrives at the perfect time for the outdoor party season—and as these styles are becoming immensely popular in modern American hip-hop and pop.
J. Balvin – "Peligrosa"
J. Balvin's success stateside has been building since Beyoncé dropped vocals on a remix of "Mi Gente" last summer, since Blue Ivy was a fan of the song. Now, with his own album combined with Cardi B collaborations, Balivn is prepared to own Summer 2018. It comes at a perfect time, when his reggaetón style is at the forefront of popular hip-hop music. Even though his influence and genre can be heard all over mainstream American music, his sound, especially on the buttery "Peligrosa," will make everyone forget about "Despacito."
Let's Eat Grandma – "Falling Into Me"
Certainly best band name of the 2010s goes to Let's Eat Grandma—a name that's both weird and also speaks to a restless generation that's disappointed in the one before it. Or it's just weird, which is always refreshing in music. And this British pop duo brings a sound that is capable of providing some variation to Top 40 radio stations. On "Falling Into Me," they find absolute clarity among the flashing synths and even a longing saxophone outro.
Kacey Musgraves – "High Horse"
If you played someone "High Horse," it might take a few guesses before they identified it as a country song. That four-to-the-floor beat with the funky, Nile Rodgers guitar, that popping bass—none of these are elements of country that should be on a hit from one of the genre's brightest stars. But the elements are all there: the middle-American lyrical imagery and references, the light slide guitar solo, the banjo, the background acoustic strings. It's like a winking scrambling of genres that creates a sound entirely Musgraves' own. Some often compare her to Taylor Swift as a country artist with major crossover potential. But less a brand than her uber-famous counterpart, Musgraves has more in common with the likes of Sturgill Simpson or Chris Stapleton, who are crossing over based on musical ability alone.
Charli XCX – "No Angel"
Charli XCX is a genius at producing infectious glittering pop music. She has the power to turn off every nagging thought in the back of your head and just transport you to some euphoric late night party. "No Angel" exists as some sort of club identity crisis, where Charli comes to terms with some of her more party girl behavior. She's no angel, Charli admits, but she can learn. Hey, acceptance is the first step. Although let's hope Charli doesn't calm down any time too soon, because we need her to fuel those 4 a.m. nights.
Janelle Monáe – "Make Me Feel"
Janelle Monae can do anything she wants. She can act in a Best Picture-winning film. She can be a pop star. She can make Afrofuturist funk. She can make elastic electro '80s R&B like "Make Me Feel"—a song that embraces all the sexual energy of Prince that you can almost feel those mouth noises mixed into to the beat.
Troye Sivan – "My My My!"
It's truly amazing to see a pop star emerge from relatively humble beginnings independent from the machine. That's how Troye Sivan came into 2018: an openly gay 22-year-old Australian singer who had already built a dedicated online following through LGBTQ communities before even releasing his first single. "My My My!" is the first single from his upcoming sophomore album, which hints at what could be his first mainstream success. It's an '80s-inspired pop exclamation full of life and synths. This is a refreshingly positive and simple message, and it's a song that kicked off this music year on an all-around high. Things are gonna be good. Just keep this track on repeat.